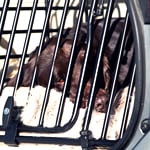 When looking for the ideal vehicle at Echelon Ford to share with your furry friend, there are a few key factors to consider.
The first is safety. When selecting your vehicle, you must prioritize safety features such as airbags to provide a secure environment for yourself and your pup in an accident. Additionally, side curtain airbags can offer additional protection if any glass breaks during a collision. Ensure all these protective measures are included when making your selection!
Second, comfort should be considered when shopping in Stratford, NJ for the perfect car for your pup. Ensure the vehicle has enough space so they feel comfortable during long rides or vacation trips - no one wants an uncomfortable pet! Additionally, check whether the interior materials are easy to clean and free from dirt and fur.
When looking for the right car to take your pup on rides, consider the climate of where you live. If it tends to be hot in your area, opt for models with air conditioning systems that will maintain a comfortable temperature and prevent overheating. On the other hand, if cold temperatures are typical in your place, heated seats can serve as an additional safeguard against hypothermia.